If you are looking for the right video editing software to suit your needs, we are here with an article that would help make your choice easier. People find it very difficult to find something between Kinemaster and FilmoraGo. After introducing the features and basics of both apps, we made it easy for you to choose something that fully meets your needs.
People generally use their smartphones to record videos and edit the contents. Recording 4K footage at 60fps on a mid-range phone is a bit difficult. Somehow, if you can use the right video editing app and add effects on the spot, things would be more worth it.
You must remember that not all applications will meet your needs. There are only a handful of options that you need to choose the best from. FilmoraGo and Kinemaster have been the most prominent video editors of all time. But when choosing one, which application would you choose?
Kinemaster Video Editor vs. FilmoraGo video editor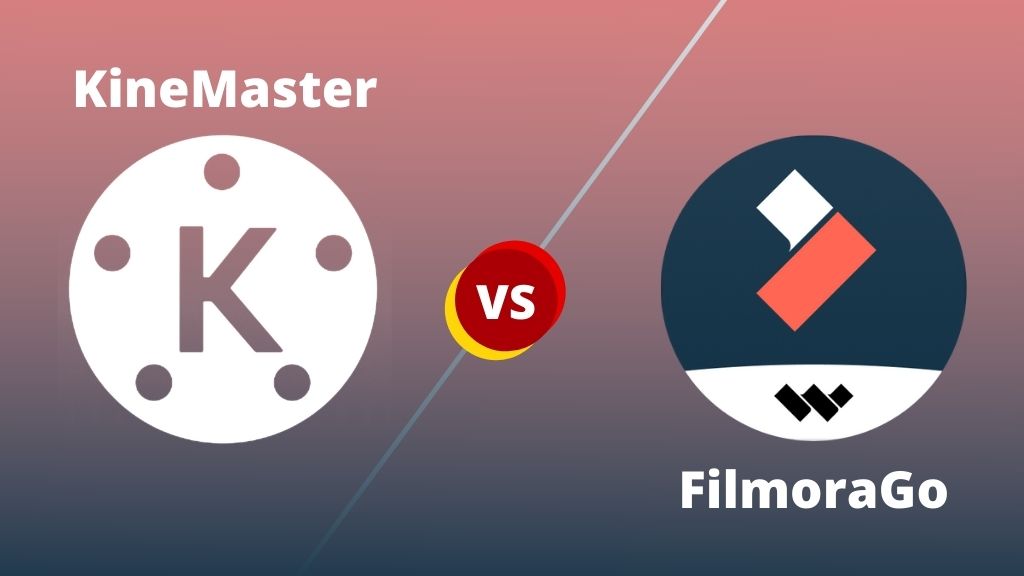 Without a doubt, Kinemaster is comparatively more powerful and useful between the two. It is useful for creating high-quality videos with the large number of features available. FilmoraGo, on the other hand, is a basic video editing app that can increase the quality of the videos available on your device a bit. It is a good application but more useful for teenagers.
App size
Both apps take up roughly the same amount of space on your device. They are 75 to 80 MB in size, depending on the version you download. After installing the applications, they expand up to 135 MB.
Here we would also like to mention that the Kinemaster has more features and it is worth investing so much space on the device.
---
User interface
Kinemaster offers a more user-friendly interface compared to FilmoraGo. While it's not very difficult to understand what FilmoraGo has to offer, the Kinemaster is absolutely flawless.
Delivers the fastest video editing experience at all times.
To use the Kinemaster app, you need to take the existing video and just edit it in 3 steps. You can even add topics, videos, and eventually share the content on social media platforms. The real-time video editing app is the epicenter of functions and it would always satisfy.
FilmoraGo is definitely not that simple and has certain tools to look for. First of all, you need to understand exactly how the application works and how it would allow you to use the available editing options. Also, there are minimal features available that are more useful for semi Pro users.
---
General characteristics
Both apps are pretty good at their editing jobs, but they have had some differences. Kinemaster is more restrained than FilmoraGo because there are a wide variety of background themes that can be adjusted to the aspect ratio.
The application allows you to add subtitles, voice over and overlays very easily. You can even adjust the speed and playback with a couple of available options.
Once you're done, you can even take a look at the entire project by choosing the preview option. It will immediately save the video to your phone so that you can share and post it on different platforms. Kinemaster allows editing and exporting 4K resolution videos at 30fps, which is absent in the FilmoraGo application.
Speaking of FilmoraGo, it will allow you to edit only a couple of options and will never take things to the next level. The available videos can be customized with the help of audio and animation effects. Filter options are available.
---
Convenient to use
FilmoraGo is easy to use because it has a limited number of features that users have to deal with. There are limited options available on the home page that can be instantly selected for editing.
Going back to the Kinemaster app, it gives you a variety of editing options so that you can achieve a complete professional result. Once you can understand each and every specification it has, it will be easy to enjoy the best video editing options through it.
---
Paid features
People are often confused about whether the paid features in both apps are worth it or not. We would like to mention that Kinemaster offers those premium features like automatic animations and zero watermarks for free on the Kinemaster Pro Mod Apk.
You do not have to make payments for the purchase in the premium version but enjoy it all without sending anything at all. The application has an asset store that allows you to enjoy animations and other effects for free.
FilmoraGo also has an additional asset store that offers a variety of features for free if you choose the FilmoraGo Premium Version.
What we think about these two video editors
We are not done with the comparison between Kinemaster and FilmoraGo yet. It's all about what exactly the user requirement is. Kinemaster is quite powerful as it has everything a professional would need.
Fortunately, it is free of complexities and helps add layers of editing effortlessly.
FilmoraGo, on the other hand, is more of a beginner-level app and designed to be simple to function. The overall size is large enough to take up a lot of space on your device, which is why we don't suggest having it if you have extraordinary editing needs.
Kinemaster's overall interface is a bit more complex compared to filmora, but still worth it. The reason is the number of tools and options available that you have. Filmora, despite being easier to use, does not satisfy users. It lacks many features that indirectly make things more complex.
It is an option for teenagers and not for professionals. You always need something different for your career to run smoothly.
One can easily trim and manage the variety of videos using FilmoraGo, but make sure you have a high-end device for that. A low-end device can make things ugly. Also, there is no guarantee of options available for audio and background effects. Kinemaster has a specialty asset store that has it all.
People who use FilmoraGo and Kinemaster together always give recommendations for the latter. Kinemaster can be used by both beginners and professionals. Somehow the same cannot be said for FilmoraGo as the app lacks several important features.
Experienced video editors would never settle for FilmoraGo because it still needs to add more features. Kinemaster is recommended for the most complex and professional requirements.
Which one to choose, FilmoraGo or Kinemaster?
Both apps work quite well. Those who need entry-level editing can choose FilmoraGo, while pro-level editing can be done through Kinemaster.
The latter has a more familiar user interface that displays a variety of functions on the home page itself.