Nobody leaves the opportunity to be part of a trend and use the latest trending apps. For the past few years, listening to music online has been a habit of many people around the world. And recently, a new Spotify music app has taken over many other music apps, including Gaana, JioSaavn, and many others.
These applications are mostly paid, but you can access them for free, but only under certain conditions. Well if you are confused between using Spotify Y Gaanaand I want to know which one will be good for you, so for you, we will make a Spotify Music Vs Gaana Comparison.
This comparison will help you understand the features and disadvantages of both apps. So, let's get started and make an amazing Spotify Vs Gaana.
Price comparison between Spotify and Gaana
Well, the first point, which is the most critical factor that can make or break your decision, is the cost of the premium accounts of both applications.
Spotify Music


Spotify offers you premium and free services. While the free services depend on the device you're using, like on Windows or macOS, you can take advantage of Spotify for absolutely free and you can create endless playlists, but obviously with ads.
When you use Spotify on mobile, then the free experience becomes a bit limited because you can play the playlists of the songs you like.
Well, Spotify Premium will cost you around Rs. 119 per month, which will remove all these restrictions, including ad interruptions, and you can enjoy your music without limits. Also, there are different packages, so depending on your need, you can choose.
---
Gaana Music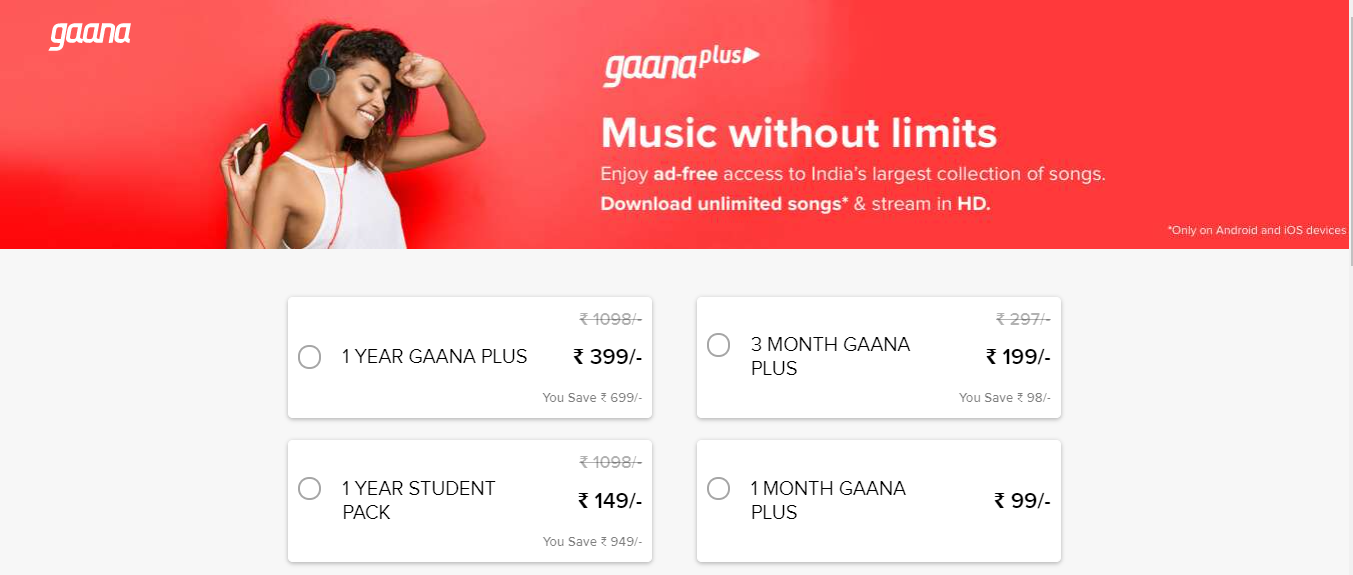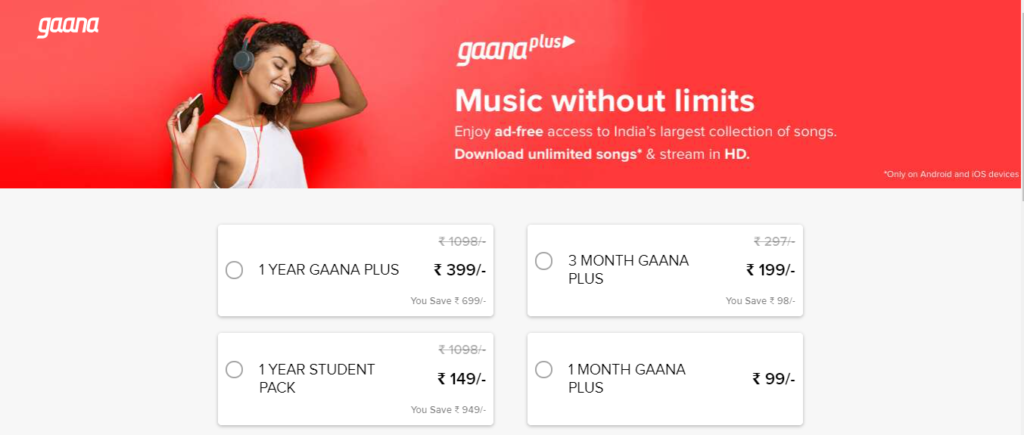 When we talk about the Gaana app, also provides us with both free and premium services. The free services are the same as Spotify. If you are going to use it for free, it is quite evident that you will hear different advertisements in between.
Gaana's main advantage over Spotify comes now as it only costs you around Rs.99 per month, which may change your decision.
So it was about the cost of both apps, but this is not enough for a comparison.
Comparison of general characteristics
Now, let's dive in and compare some essential features of both that you should know before making a decision.
The most important difference between these two apps is that Spotify supports the student plan, while Gaana does not support such plans.
You can also subscribe to a free 30-day package or a 1-day prepaid plan for Rs. 13, which Gaana does not offer you at all. You can use it for free with ads and restrictions or buy a premium plan.
Also, the Gaana app gives you around 30 million tracks, while Spotify gives you around 40 million tracks, which is a huge advantage of Spotify over Gaana.
Well, there is also a slightly similar feature, as Spotify has 'Daily Mix' which gives you songs according to your preferences and Gaana has 'Made for you mixes' which does the same thing too.
One of Gaana's advantages over Spotify is that Gaana is compatible with Google Home or Amazon Echo smart speakers, while Spotify is not yet supported in India.
Gaana supports all of its content in 16 languages, which is a good point on that, while Spotify only supports 8 Indian languages ​​for now.
The audio quality that Spotify offers is up to 160 kbps for free subscribers and 320 kbps for paid users. On the other hand, Gaana offers only 128 kbps for free subscribers and 320 kbps for paid ones. Therefore, this point is also important if you want to use any of the applications for free.
Well, it was a comparison of the functions they offer you.
To make it easier for you, let's take a look at comparing the two through a table that will help you to analyze both comfortably.
Characteristics
Spotify Music
Gaana
Price
Rs. 119 per month
99 rupees per month
Supported Platforms
Android, iOS and Windows
Android, iOS and Windows
Supported services
Free and paid
Free and paid
Specific plans
Student plan, prepaid plan
There are no such plans
Audio quality
Free: 160 kbps
For payment: 320 kbps
Free: 128 kbps
For payment: 320 kbps
Number of tracks
40 million tracks
30 million tracks
Number of languages
8 Indian languages
16 Indian languages
Last words
So if we look at the comparison between both Gaana and Spotify, then Spotify is preferred due to its trend and other essential features that are better than Gaana.
But in case your main focus is price, then you can go for the Gaana app, because yes, it gives you premium plans in an affordable amount. Well, it is up to you which one you want to use because both have their advantages over each other.